News & Events 2011 - 15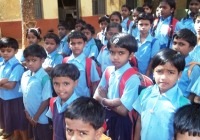 New Scholastic Year
On the re-opening day our children, bubbling with joy and enthusiasm marched to their respective schools to begin their new scholastic year, the new bags and new friends added to their happiness. At Kammanahalli, the children had well animated and a meaningful prayer moment during which they surrendered their study materials and invoked God's blessings upon themselves and their teachers as well. On the other hand the children of SSA Vijaynagar ,who had completed their bridge Course, were excited to- join the regular school at Auxilium Navajeevana Chamrajpet.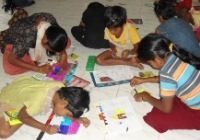 Drawing Competition
Vodafone Company organized a drawing competition at Surana College. Basavanagudi to enhance and encourage the hidden talents and creative thinking of the young generation on 17th June 2012. Ten of our Rainbow Children participated in it and received Certificates of Participation.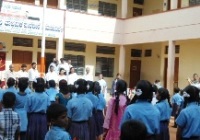 Groups & Childer's Parliment
The children of J.J.R. Nagar were delighted as they revived their groups. Sr, Jacinta Lobo the animators inaugurated the children's Parliament and congratulated all the elected leaders and the Parliament Members. She Explained in detail their roles and responsibilities. They were exhorted to develop their leadership qualities and become efficient and competent leaders among their peers, Everyone congratulated the way the President welcomed the assembly, the Vice president presented theqq agenda and the Ministers put forward their problems one by one to fond suitable solutions for creating a child-friendly atmosphere everywhere.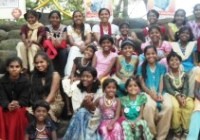 Bosco Kids
40 CHILDREN OF Auxilium Navajeevana- Chamrajpet have joined Bosco kids Group as members, this is a special group for children which has its motto "Kids for friendship and harmony " and to build a "BETTER SELF ,and a BETTRE WORLD!" On July 16th during a well animated prayer service these kids took a pledge to love everyone as brothers and sisters through their little acts of kindness.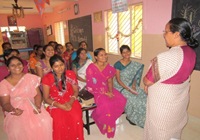 Seminar on Suicide Prevention
Four of our 10th standard girls were taken to St. Aloysius Degree College, Cox town by Sr. Leema to participate in a seminar on "Suicide Prevention in Bangalore city". Students were encouraged not to get discouraged after their results instead to try to be successful with more attempts. During the good night they shared their experience with the others. Staff orientation: The staff of Navajeevana gathered at Kammanahalli on 18th December for the staff meeting and Christmas celebration. Sr. Jacintha animated them on the practical aspects of the Preventive System of Don Bosco. They were given gifts as a sign of gratitude for their services. Thereafter the Christmas cake was cut and the tea party was held. Each one thanked each other and exchanged greetings for a happy Christmas and a happy New Year. Christmas at Kammanahalli: Auxilium Navajeevana Kammanahalli celebrated Christmas on 18th December 2013. The girls greeted the sisters through skit, dances and carols wishing them the love and peace of Christmas. Sr. Jacintha explained the significance of the feast and wished each one with gifts.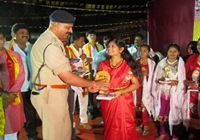 Kaya Kalpa
To boost the energy of the girls and to help them in their integral formation half a day animation was organized by the Kaya-kalpa team headed by Mr. Kanikya Prabhu, a professor from St. Aloysius College on 24th November. He explained to them the structure of a body and its functioning, acupuncture, simple tips for a healthy body. He was accompanied by two others from their team who taught simple yoga exercises to the girls which would help them very much. At the end of the workshop Certificates were distributed to the participants by the Kaya-kalpa team. Kannada Rajyotsava: In the annual dance competition participated by many schools organized by the Auto drivers association in honour of Karnataka Rajyotsava, the dance performed by our girls was awarded first for their best performance. All the dancers were awarded with certificates and mementos by the Asst. Commissioner of Police, Banaswadi.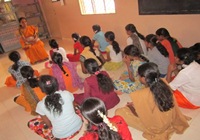 Motivation on education
An experienced teacher of St. Anthony's School teacher Mrs. Sagaya Mary was invited to Auxilium Kammanahalli on 2nd October 2013 for a motivational session on education to motivate the girls towards higher education. Being the native of Kammanahalli, she narrated her inspiring life story and highlighted the value of true education. She insisted that "without education life has no value. Alphabets bring dignity to life. Quality education leads to acquire a quality job". The girls were highly motivated to work hard, not to waste time and aspire for higher education.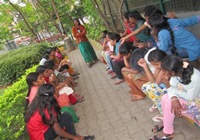 Pick and Speak
The girls of Auxilium Kammanahalli were offered an opportunity to improve their oral skills on October 25th through a pick and speak competition. Simple and relevant themes were chosen – like my country, the leader I admire, benefits of ragi, Independence Day, Mahatma Gandhi, Bal Gangadhar Tilak etc. Sapura class IX, Deepa class IX and Nagalakshmi class X won the prizes.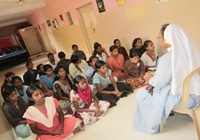 Prayer for Peace
On 7th September 2013, Sr. Suguna from Bethany Sisters animated an hour of Prayer for peace in the world especially between Syria and America. She explained what peace is and how we need to be instruments of peace.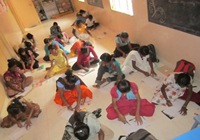 Drawing Competition
A drawing competition was organized on 25th August 2013 with an aim of creating awareness to save nature on the themes- Clean Bangalore, Nature and my garden. At the conclusion, the girls wrote the slogans save nature, preserve wild life, no to plastic etc. Nagalakshmi, Rajeshwari and Deepa won the prizes.