News & Events 2011 - 15

Human Trafficking Awareness Rally
"Rebuild their fragmented life and plan to give hope and a future "with this slogan in mind, 15 Rainbow Home Children along with Mr. Padmanaban.. {Read More}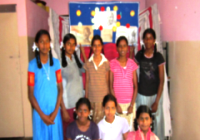 Gandhi Jayanthi Celebration
On October 2nd 2012 we celebrated Gandhi Jayanthi in our centre. On this birth day of our great national leader, our girls in groups composed poems, wrote essays, and enacted a scene from his life highlighting his human qualities and his love for all the citizens of India.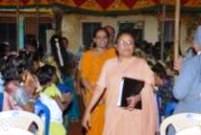 Family Celebrations
On the last day of every month in all the five Centers there are birthday Celebrations / Fellowship meals to strengthen the family spirit the staff, Sisters and children perform cultural programmes and make each other happy . It's a moment of fun, laughter, spontaneous items and having fellowship meal together. This is a day which is looked forward by all.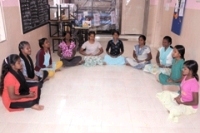 Day with God and value Education Classes
one hour a month has been set aside in every Center fir the spiritual growth-an opportunity to have experience of god that each one believes in, Mr. Santhosh from Dream Network came to animate the group with his wide experience as a youth animator. He, with lot of initia tives enabled them to draw values for life, the day passed so fast that they wanted to continue even after the proposed hours. ANC Rainbow home staff conducts the value education class on everyday basis they are happy to join the class and to learn more about the theme of the year "love never gives up' we exhort them to speak well of others, and treat everyone with love and compassion. Tips are given to improve themselves and come up in life.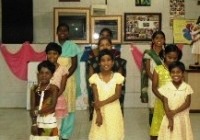 Independence Day
All our centers celebrated Independence Day in a unique way, Most of our children went to their respective school for the flag hosting. Many Navajeevana children participated in the March past and other cultural activities. Special prayers were offered for the leaders of the Country and its leaders. The Vijaynagar children had a wonderful celebration of the Independence Day at BOSCO Sumanahalli along with BOSCO Children. The celebrations began with a prayer and hoisting of the flag followed a meaningful patriotic dance and participated in the sports and other events and won many prizes. It was a good chance for our children to mingle with other children and to know them, after enjoying a good meal they return home, happy and contented and thanking God for this wonderful day.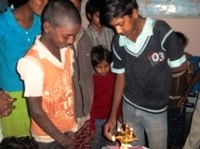 Street Presence in the City
Street presence is one of the main components of our work where we connect children both girl and boys who roam about aimlessly on the streets, child laborers and children who run away from their families etc. We build up rapport through our friendly presence and interventions; we set our goal, planned and discussed viable alternatives to revitalize our presence in the market area and few more slums like Siddapura, Vinobha nagar, L. R. Nagar and Nayaandahalli area, we have inaugurated two rooms in the market complex for the street presence. Sr.Jacinta Lobo inaugurated this Pro gramme and the representatives of children, Sr, Ancy. Ms.Divya, Mrs. Anita and Mrs. Padmasri lighted the Kuthuvillakku. There were about 15 children both boys and girls, Ms. Divya our social mobiliser has taken up the charges co-ordinatior of street presence and continue to mot ivate these children to rejoin school.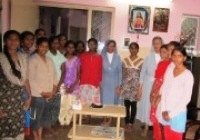 140th Birthday of our Institute
On 26th August 2012 all at Navajeevana rejoiced with the entire Silesians world for the unique gifts of St. Don Bosco and St. Mary Mozzarello to the Silesian family. These grate saints had begun their work 140 years ago in Italy for the poor and abandoned youth, today the same charisma and mission has been carried on in all our centers. It was indeed a memorable day for all of us. In Auxilium Navajeevana. Our hearts were bubbling with joy and gratitude to celebrate the 140th birthday of our institute in our community. A DAY OF RECALLING A DAY OF REJOICING A DAY OF THANKSGIVING We recalled and rejoiced at this event of our family. It was something beautiful to thank God for the spirit and chrism of our Founders which even today we re-live in our centers, that is working for the poor, marginalized and orphans. A DAY OF CELEBRATION A DAY OF TOGERHERNESS The whole community- Sisters, Staff and Children of all the five centers gathered at 11 am in G.K.M.P. School, Chamrajpet campus to celebrate the 140th birthday of our Institute. Smt. Shashikala Shetty. The Project Director ICPS Department of Women and Child Welfare was the chief guest. The other guests were Mrs. Anupama and Mr. Shivamallu the CWC Members Bangalore Urban, Mr. Raju. Sub-Inspector, Vijaynagar police station.Mr. Nagel Paul, Mrs.Leela the H.M. of GKMP School, Mr. Prakash and Mr. Harsh, staff of GKMP School. All of them appreciated the meaningful cultural performance of the children and the dedicated service of the staff and sisters. The Programme ended with a fellowship meal.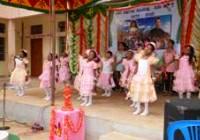 Teachers Day
All the Centers had a meaningful celebration of the teachers' day which began with a short prayer session, Later the children entertained their Teachers with well prepared cultural events and thanked them for their dedicated and selfless service.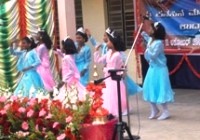 Girl Child Day
There was much joy and enthusiasm in celebrating the GIRL CHILD DAY. There was a specially prepared Prayer Moment during which all the girl children all over the world, especially those who are in difficult circumstances were remembered. There was a beautiful cultural event to mark this day.
This issue is sponsored by: Mrs. Saroja - JJ R Nagar, Mrs. Iva - kerala Mrs. Jacintha-Chamrajpet.